Cinema news
Movies with your classmates - "Bille"
From April 21 come and see the "Bille" movie together with your class-mates and get a discount ticket – 3.95 EUR!
From April 21 book your "Watching Movies with Your Classmates" visit to see film "Bille" and get discount tickets - 3.95 EUR.
For watching films with your classmates the movie theatre "Kino Citadele" offers:
Students and teacher pay 3.95 EUR for ticket (offer is valid to screenings on working days till 5 p.m.);
Just send a booking form filled in by the teacher at http://www.forumcinemas.lv/eng/Cinema/KlaseUzKino/ and book the best seats for the show of your choice.
Additional information at: klase@forumcinemas.lv and +37167357625.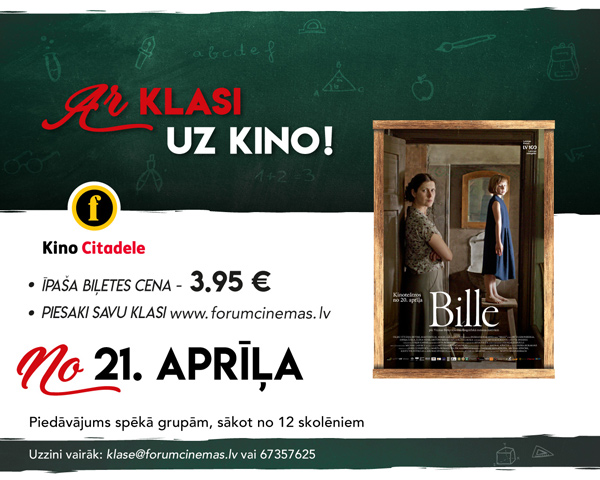 ---
An extraordinary, lonely yet spiritually strong little girl attempts to comprehend the adult world, which in her eyes is very contradictory, and to prove her own value despite the ignorance and lack of appreciation by her family in late 1930s. Bille tries to find an escape in her vivid imagination.

This autobiographical family drama based on a best-selling book by the award-winning Latvian author and a Nobel Prize candidate Vizma Belševica.

Movie ir Latvian with subtitles in English.