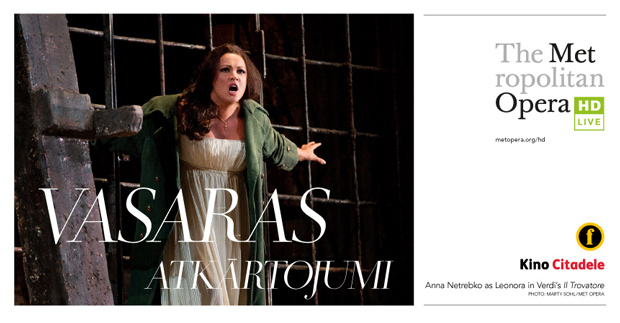 Metropolitan opera Summer Encores!
Seven popular operas on the big screen.
The Met Presents 2018 Summer Line-up of Encore Screenings Featuring Popular Live in HD Transmissions, beginning Wednesday, May 9 with "LUISA MILLER". Encore presentations offer another chance to see popular operas from the award-winning series in movie theatres on the big screen.
Ticket prices:
Regular ticket

- 14.70 €

Cinema Club

:

Cinema Friend

– 13.97 €

Cinema Fan

– 12.50 €

Cinema Guru

– 11.76 €
At cinema box office season subscription will be provided for very special price – 7 tickets for 80.50 €.
Metropolitan Opera: TURANDOT




Metropolitan Opera: TURANDOT

Christine Goerke, Lise Lindstrom, and Nina Stemme, three of opera's greatest dramatic sopranos, take turns in the title role of the proud princess of ancient China, whose riddles doom every suitor who seeks her hand. Tenors Marcelo Álvarez and Marco Berti are Calàf, the brave prince who sings "Nessun dorma" and wins her love.

Release Date: 18.07.2018, Length: 2h 19 min

Genres: Opera