Cinema news
Movies with your classmates - "Rebel in the Rye"
From October 17 come and see the "Rebel in the Rye" movie together with your class-mates and get a discount ticket – 3.95 EUR!
From October 17 book your "Watching Movies with Your Classmates" visit to see documentary film "Rebel in the Rye" and get discount tickets - 3.95 EUR.
For watching films with your classmates the movie theatre "Kino Citadele" offers:
Students and teacher pay 3.95 EUR for ticket (offer is valid to screenings on working days till 5 p.m.);
Just send a booking form filled in by the teacher at http://www.forumcinemas.lv/eng/Cinema/KlaseUzKino/ and book the best seats for the show of your choice.
Additional information at: klase@forumcinemas.lv and +37167357625.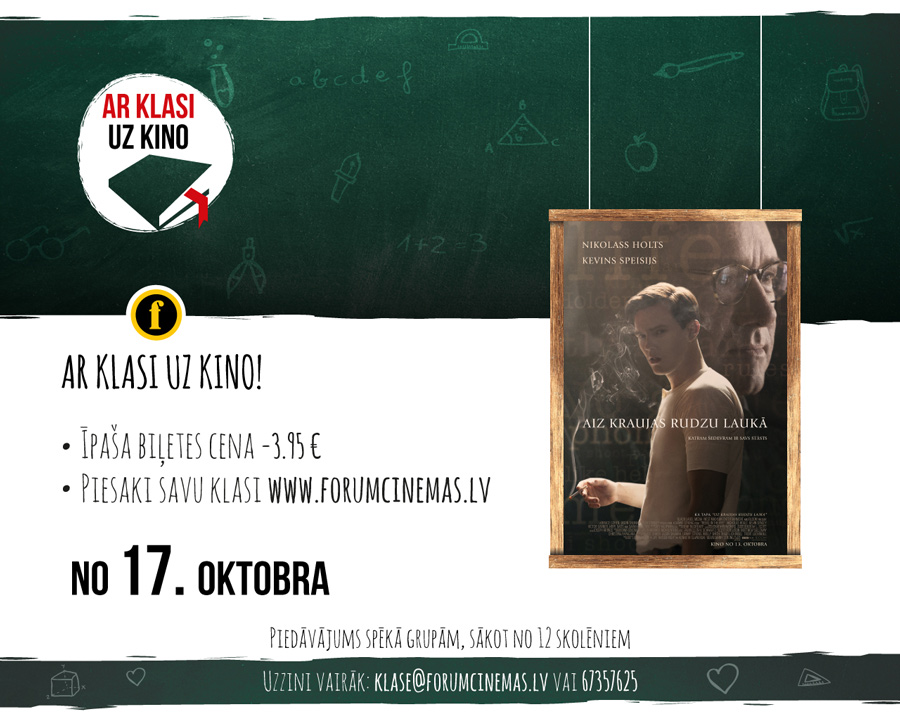 ---
The world of legendary writer J. D. Salinger is brought vividly to life in this revealing look at the experiences that shaped one of the most renowned, controversial, and enigmatic authors of our time. Set amidst the colorful backdrop of mid-20th century New York City, Rebel in the Rye follows a young Salinger (Nicholas Hoult) as he struggles to find his voice, pursues a love affair with famed socialite Oona O'Neill (Zoey Deutch), and fights on the frontlines of World War II. It's these experiences that will inform the creation of his masterpiece, The Catcher in the Rye, bringing him overnight fame (and notoriety) and leading him to withdraw from the public eye for the rest of his life. Costarring Kevin Spacey and Sarah Paulson, Rebel in the Rye offers a tantalizing window into the life and times of a little-understood genius who broke the rules and redefined American literature.

Movie in English with subtitles in Latvian and Russian.